Project

Design tools to facilitate brainstorming meeting in VR
Team

Janel Wong, Nour Malaeb, Alex Frankel,
Mischa Fiere, Young Jang
My role

3D modelling, animation, video editing,
prototyping in Unity and facilitate users testing.
Meeting in VR
A lot tech companies / start up are starting to make social experiences in Virtual Reality. We believe in the future, VR/AR may be used for a team meeting. However, even though tools will get better, it won't fix human dynamics. So we started by looking at how VR will impact teamwork and collaborations.
The challenge
How can we increase social awareness for meetings in VR?
Body language and social cues are crucial in team collaboration. To facilitate a more effective team meeting in VR, we designed 4 social interactions in VR to increase social awareness to achieve better team work.
Problems in meetings IRL
Through our research, we found that in order to facilitate effective communication in meetings, it requires 3 social conditions.
1. Emotion intelligence
2. Psychological safety
3. Equal participation
Facilitate effective meetings in VR
The most common ways to address these problems are to either follow a rigid structure to the meeting, like Google's Sprints, or hire or assign a meeting facilitator, whose job among other things is to make sure everyone feels comfortable and is able to participate. A facilitator acts as an important role in a meeting is understand the above 3 social conditions.
Generating ideas & Use cases
Phase 1
Testing idea in real life meetings
To test our hypothesis, first we created "experience prototypes". By using simple meeting structure to simulate the meeting in VR.
How we conduct our test?
We tried out various ways to influence the room non-verbally, eg. change the brightness of the room.
We simulated meetings and tested ways to affect social dynamics using facilitation widgets and meeting structures, eg. decision bomb, count down timeline.
We learned that people change behavior given visual feedback, eg. -1 point for people that speaks too much.
 
Take aways from the testing :
1. Too many tools can be distracted
2. Negative comments can ruin the team dynamic
Phase 2
Wizard of Oz in VR for prototyping
On the second phase, we applied the insight we learned from the testings and simulate in VR. We learned that VR prototyping is time heavy, so we used Wizard of Oz for time efficiency.
Big part of my role was facilitated user interviews, prototyped in VR, designed prototype in Unity, built 3D model for the VR environment and character design for the avatars.
HELLO VR
Hello VR provides a space where participates feel comfortable, self-aware, and heard.
We've designed 4 social interactions that encourage positivity, increase emotional intelligence, and facilitate equal participation.
4 Social Interactions
 
1. PoziVibes
For team encouragement
To encourage positivity, participates can high five or clap to show appreciation or celebrate achievement together.
2. Self-aware minions
For self-awareness
Sometimes critique is helpful, but other times it's unproductive. If you're being too negative, Hello VR will send a self awareness minion to encourage you to lighten up. To avoid being publicly embarrassed, only you see this minion.
3. Shrinking
For equal participation
Academic research suggests that meeting outcomes are stronger when participants speak equally. But we all know some people tend to dominate the conversation. Hello VR brings balance by automatically shrinking a participant if they talk too much.
4. Ambiguity fog
For clarification
Sometimes it's not clear what people are talking about. If someone isn't making sense, you can let them know by making the room foggy. This enhances their self awareness and encourages them to consider explaining their point in a simpler way.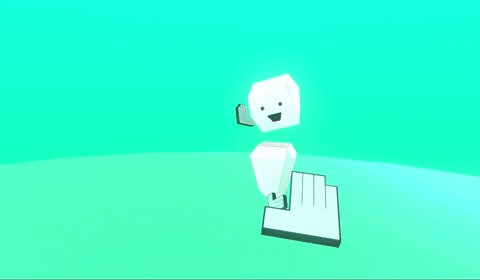 Final presentation
We presented at Frog New York office and set up a live demo with 2 players.